Hello everybody and welcome to our first newsletter of 2022!
Firstly, a warm We Bridge Academy welcome to all our new January start students, many of whom are starting their journey to university with us on our Intensive Foundation Programme pathway. With flexible start dates this year in order to make sure Covid -19 does not hinder anyone's education, we look forward to meeting more new students over the coming weeks. Some of them are already studying with us online until they are able to travel.
Welcome back to our returning English and Foundation students who have quickly settled back into routine. Well done for all your support in welcoming the new cohort of students with open arms.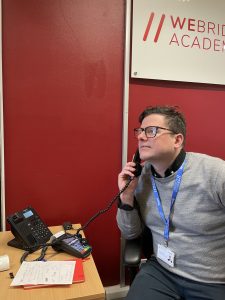 We want to also welcome our new Academic Centre Manager, Chris Tew, who joined our team in November. He has extensive experience in the education sector, and we can't wait to see what his expertise will bring to the Academy.
Due to the pandemic the last couple of years have certainly brought challenges to the Academy. We feel now that a sense or normality is returning and are very excited about the year ahead. Besides our English and International Foundation Programmes we have already started receiving applications for our summer programmes including our Trinity CertTESOL teacher training course and our summer English.
Our final message to all of you is that we welcome 2022 with open arms. We have learnt lessons and met challenges over the last couple of years and we are ready to take on any hurdles to come. Let's now concentrate on education and growth and may all our students fulfil their goals!