WE Bridge Academy is perfectly situated in the very heart of Cardiff City Centre. Cardiff, Wales' capital city, offers spectacular shopping, museums, dining and entertainment. Easy to explore on foot you can visit the free National Museum and spectacular Castle all within the city itself.
// Need to Know
Voted one of the most beautiful countries in the world (Rough Guides, 2019)
Ranked 11th highest trending city in the world (Airbnb, 2019)
Voted No. 1 UK city for young people to live in (The Independent , 2013)
More than 78,000 students in Cardiff each year
10% of the city is parkland – more than 330 parks and gardens
No. 1 Peaceful Major Urban Area in the UK (The UK Peace Index, 2013)
London just 1hr 47m away by train
35% cheaper than London
99% of people would recommend Cardiff as a destination to visit – more than 20.9 million visitors each year
The most popular attractions are Cardiff Bay, shopping, Cardiff Castle and The Millennium Centre
Popular location for sporting and music events
Ongoing major investment, including the new home to BBC Wales, a new transport hub and £5bn investment in the South Wales Metro
// Take a Tour
Cardiff (and Wales) don't just offer great attractions, they offer spectacular ones too! Here are just some of the great things you should see and do during your studies at WE Bridge Academy.
// Brecon Beacons National Park
One of the most visited national parks in Wales – and certainly the easiest to get to from Cardiff – Brecon Beacons National Park lies just 37 kilometres north of the Welsh capital. The best place to begin exploring this area of outstanding natural beauty is the town of Merthyr Tydfil. Part of the National Cycle Route, it's a good place to either pick up a bike rental or lace up the old hiking boots and head off along one of the many trails leading into the surrounding hills and mountains (alternatively, you could take the Brecon Mountain Railway eight kilometres into the park and either cycle or walk back).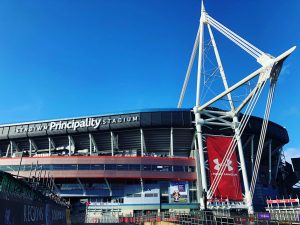 // Rhondda and Blaenavon
Just 30 minutes drive northwest of Cardiff is the former coal mining town of Rhondda. Once one of Britain's largest collieries, the town's now redundant mine has been turned into Rhondda Heritage Park, an excellent attraction showcasing the tough life of the workers who toiled here right up to the 1980s. Highlights include a re-creation of the 1950s Lewis Merthyr Colliery, a chance to visit "pit bottom" as part of a fascinating underground tour led by former colliery workers, and a replica village street showcasing the everyday lives of those who depended on coal for their livelihoods.
Another former industrial site to visit is Blaenavon, a perfectly preserved traditional Welsh ironworks. Here, you'll find the "Big Pit," now part of the National Coal Museum, along with its old blast furnaces and foundries. After touring the workshops and old machinery, be sure to spend some time wandering the town to admire the well-preserved homes of those who once lived and worked here.
// Carew and Tenby
Although more than 90 minutes' drive west of Cardiff, the small town of Carew is well worth a visit if you're hankering for a glimpse of pre-industrial Wales (it's in the same direction as Pembroke, so it's easy to combine as part of a "go west from Cardiff" tour). Highlights include the ruins of 13th-century Carew Castle, idyllically perched overlooking a huge 23-acre millpond, and the nearby tidal mill, the only example of its kind still in use.
Next, head nine kilometres east to the delightful town of Tenby, one of the most picture-perfect coastal towns in Britain. Here, you'll not only have a chance to explore the town's historic town walls, but also the many attractive pastel-coloured houses overlooking Carmarthen Bay. For those into water sports, Tenby's beautiful sandy beach is the perfect place to spend an afternoon swimming or simply kicking back and relaxing. And thanks to its popularity as a major Welsh tourism destination, there are no shortages of top-rated hotels, small inns, and quaint bed-and-breakfasts available for those wanting to extend their stay in this coastal paradise (if so, be sure to take the short drive over to the neighbouring seaside village of Saundersfoot with its excellent beaches).
// Barry Island
Though no longer completely separated by water from the rest of Wales – it was forever joined to the mainland by the construction of a causeway and docks in the late 1800s – Barry Island has been a popular seaside destination for day-trippers since Victorian times. Today, as back then, the big draw to this pleasant seaside destination are the three long sandy beaches (two of them dog-friendly), notable for seeing the second highest tides in the world. Families flock here from far and wide for fun times splashing and swimming in the water, with some of the more savvy bathers renting one of the colourful beach huts that line the promenade, providing a little privacy, as well as serving as a sanctuary from the sun.
In addition to its pleasant waterfront walks, visitors can enjoy a variety of other attractions, too, from video and game arcades and climbing walls for the kids to the interesting Barry War Museum with its authentic simulation of life in the trenches of WWI and the blitz of WWII. Also fun is the Barry Tourist Railway, which whisks travellers from the island to the mainland in vintage carriages pulled by steam locomotives. There are also plenty of dining options, too, and to work off the pounds, the island is directly connected to the superb Wales Coast Path.
// Cosmeston Lakes Country Park & Medieval Village
Although this is one of the easiest outings to make from Cardiff, it's not difficult spending the best part of a day at Cosmeston Lakes Country Park & Medieval Village. Just seven miles away and close to the towns of Sully and Penarth, this nature reserve has plenty of appeal. Start your exploration of this vast 247-acre site at the visitor center to get your bearings and a map (plus a drink and snack from the café) before venturing out. Depending on the season, you're likely to spot numerous species of wildlife and, in spring and summer, a wide variety of plant life. Highlights include circling (and crossing) the two lakes on the property, and enjoying a mix of wetland and woodland areas. Be sure to also check out the Cosmeston Medieval Village, a faithful replica of the 14th-century settlement that was only discovered during construction of the park. Other notable features include a small museum, an adventure playground for kids, a picnic area, and barbecue facilities.