The company was set up in December 2009 by its founding Director, Mr Troy Blankenship and registered with Companies House #7104100.
// Our Story
The company was originally set up with the vision to help those from East and West to communicate through the medium of the English Language, this is how WE Bridge got its name! At the start, North Africa and Middle Eastern regions were identified as the primary target market as people groups from that area were highly likely to relocate for a period of time to Cardiff for language learning. In addition, TEFL was clearly identified as being complementary to the aims of foreign government sponsorship programmes in those regions.
// 2009
Between the period of September 2009 and June 2010, Mr Blankenship developed and ran the business from his home office and organised training and tuition to be delivered in client's homes and at business premises. Since that time the company has enjoyed steady growth with all of its tuition and training products now being delivered from its own premises.
// 2010
By June 2010 the business had grown significantly enough to move into its first corporate facilities, Haywood House North. Located on Dumfries Place, close to Cardiff High Street. This was strategically positioned near to the area of choice for international student accommodation. This corporate let was on a short-term agreement for 250 square foot of fully serviced offices. This move allowed for the delivery of TEFL at WE Bridge premises.
// 2011
Just a year later in June 2011, WE Bridge had gained enough momentum to move premises and up-size again. The company moved to Windsor House on Windsor Lane, just off of Queen Street and home to much of the main shopping in Cardiff City. This would be the home to WE Bridge for a 2-year period. Initially, a lease was taken on 1400 square foot, but as business increased it wasn't long before that demise was increased to 2,200 square foot.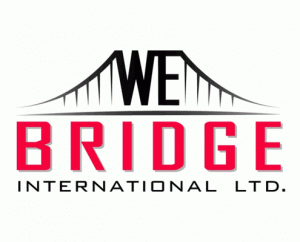 At the point of firmly establishing business contacts with agencies working into the identified target regions, an understanding was gained in accreditation with the British Council for the teaching of English (which would also award WE Bridge the ability to offer Student-Visitor Visas through the UK Border Agency), and the process of application began. Through the external grant funds, WE Bridge was able to offer a significant number of scholarship programmes to asylum seekers and refugees living in Cardiff (some of these scholarship programmes are still in place today and help the academy to diversify & balance the languages spoken within the academy, they are now funded from company profits and enable the company to play a charitable role in the local community).
// 2012
By March 2012, WE Bridge International was accredited by the British Council for the teaching of English, it became authorised by the UK Border Agency to issue Student-Visitor Visas and had become a member of the highly prestigious body, English UK. A short time later the academy became a Cambridge ESOL exam preparation centre.
// 2013
In January, Dave Henson became majority shareholder and Managing Director.
Dave had recently moved to Cardiff after living in Russia for 7 years where he had been working for a UK charity in a leadership development and coaching role. Dave came to WE Bridge with over 15 years of commercial and cross-cultural experience in international project management, leadership, training & coaching roles.
Also, in January 2013, WE Bridge was invited to become a member of 'Learn English in Wales', an association of Universities and Centres of Education able to deliver English training to the best possible standards.
Through broadening its recruitment efforts to include many more countries, WE Bridge continued to grow and therefore in June 2013 it had another premises move. WE Bridge moved to the 10th Floor at Southgate House, Wood Street. This is an executive standard of accommodation. WE Bridge took on this new facility with the aim of providing the most professional environmental standard for our students. Southgate House is situated within the new central business district of the Cardiff Enterprise Zone where the BBC and other well-known businesses and organisations are located. These facilities are unlike other language schools and give WE Bridge a unique edge that students, agents, businesses and government bodies recognise.
August 2013, WE Bridge became an exam centre for Trinity speaking exams.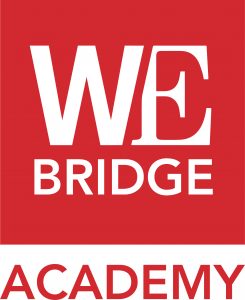 September 2013, WE Bridge was invited, together with 5 other institutions from Spain, France, Germany, Latvia and Poland to join an EU funded project to develop new methodologies in the teaching of languages. In addition, the teacher training courses, designed and developed by WE Bridge were approved for funding through the EU.
November 2013, WE Bridge became one of the first English language centres to win a contract directly with a Libyan Ministry through the General National Congress (GNC) initiative to send 40,000 Libyans abroad for training for new education reform. This contract was to train 120 civil servants from the Ministry of Industry.
// 2014
April 2014, WE Bridge was accredited by ISI, an education oversight body that uses the Tier-4 credit system as set out by the Home Office for high-level education institutes working with international clients and awarded with 'highly trusted' status June 2015.
May 2014, WE Bridge was awarded a Tier 4 licence by the Home Office to issue supporting documentation for Tier-4 visas.
September 2014, WE Bridge was approved by Italian Ministry of Education and Trinity College London to run PON programmes for young adults; a short English language programme with relevant exams to help employability and future career prospects. The first group of 33 students attended a 3-week programme in the same month.
October 2014, WE Bridge ran its first 'in country' teacher training course delivered in Tver, Russia.
// 2015
June 2015 NCC Education accredited WE Bridge foundation programme in 3 separate pathways, namely computing, engineering and business. Then in July 2015, University of South Wales gave their own approval to WE Bridge foundation programmes. Cardiff Metropolitan University did the same a short time later. In 2018, WE Bridge introduced another pathway, Science and Healthcare as well as receiving additional independent approval of all its pathways from Plymouth University and the University of the West of England.
// 2018
This was a year of investment for WE Bridge Academy, including a complete re-brand. We changed not only our logo, but our marketing material too.

February 2018, WE Bridge took on an additional 2000 square foot of space on the 2nd floor at South Gate House. This expansion has given WE Bridge both extra classroom and office space as it continues to grow and deliver education of the highest standard.
Towards mid-2018, we unveiled a newly-refurbished student lounge and our brand new website.