Working closely with our friends at Euro Training Services, we are pleased to be able to offer internships and work placements throughout the year in a range of roles throughout the business.
Working at WE Bridge Academy not only gives you the opportunity to continue and improve your professional development, but also gives you the possibility to interact with other cultures. Our friendly working environment simply enriches the experience and adds to the excitement of working with a great team. The team are open-minded people who have respect and interest for all cultures so it's easy to feel confident and work in a busy, yet rewarding environment.
WE Bridge Academy is ideally situated in the very heart of Cardiff, which means everything is easily accessible. Once you've finished work you can enjoy a relaxing walk at the park or keep up with the latest fashion trends by shopping at St David's, with literally hundreds of shops and brands to choose from. Everything you need is within easy reach and that also gives you the chance to take a break from work and be back in minutes without worrying about the distance!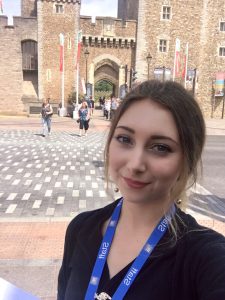 WE Bridge Academy is located within Southgate House – an executive business building with modern facilities. The premises boast a modern student lounge, quiet room, staff room and muti-faith prayer room. We are also located with walking distance from the railway station and local bus routes.
Whatever your goal in life, WE Bridge Academy will have a role suitable for you. We regularly have intern posts available within the Academic and Administration teams, and may even have project-specific roles available, such as marketing and increasing our social media presence.
If you are interested in an internship or work placement at WE Bridge Academy, please contact us