Each week we update you on life at WE Bridge Academy. However, much of the time major developments are taking place outside of the Academy too. Cardiff is now recognised as the city of choice for more and more people and is undergoing major investment, some of which is right on our door step.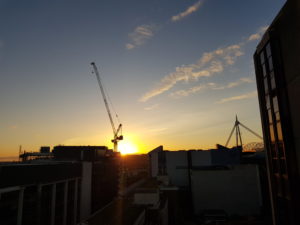 From our 10th floor classrooms you can see the huge Central Square development nearing completion – the new home to BBC Cymru Wales, HMRC and many new businesses. Just a two-minute walk from the Academy and you can take a train to London in just two hours, and with news of a £58m upgrade for Cardiff Central Railway Station, that journey time will be even less.
With a new transport network announced for South Wales in 2018 (the South Wales Metro) and brand new student accommodation opening throughout Cardiff, there's never been a better time to consider studying at WE Bridge Academy.